Technical Paper Series
TickData Knowledge
Our Technical Paper Series includes white papers that provide useful information on a number of topics:
Including how we built our U.S. equity NBBO dataset, ways to benefit from AWS infrastructure, avoiding the dangers of survivorship bias when building, testing, and optimizing trading models with historical data, and how we filter data.
Backtesting in the Cloud: A Scalable Market Data Optimization Model for AWS
In 2013 Tick Data, Inc. left a traditional data center in favor of Amazon's AWS cloud
environment. The daily tasks performed there include the daily receipt and processing of very large quantities of financial market data as well as distributing that data to clients around the world.
The company has gained considerable expertise in the process, particularly in the area of connecting hosted market data to analytics and scaling processing power on an as-needed basis for data processing and analytics. From that expertise grew Tick Data's Custom Data Solutions Group.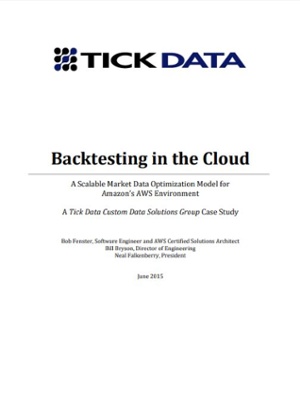 ShuttleService: Scalable Big Data Processing Utilizing Cloud Structures
This paper will describe the methodology deployed by Tick Data in this assignment. In this case ABC did not have an existing Amazon AWS infrastructure. ABC's data was transferred to Tick Data on physical media, uploaded to Tick Data's AWS infrastructure, processed, output transferred to ABC, and original input data deleted.
Field names in the original data were masked to further protect ABC's data and processes. At no point did ownership of the data transfer to Tick Data.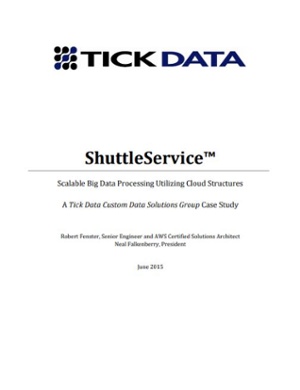 Deriving NBBO & Quote Bars from U.S. CQS Level I Quote Data
This document describes the logic used by Tick Data Inc. to derive a National Best
Bid and Offer (NBBO). The intention of the NBBO is to show the "prevailing" market
for U.S. equities disseminated on the Consolidated Quotation System (CQS).
The CQS is processed by the Securities Industry Automation Corporation (SIAC) and published by NYX Data. The Quote data published by NYX Data is Level I data by exchange and does not represent an actual NBBO. This document also describes the building of Quote Bars because Quote Bars are derived from the NBBO data.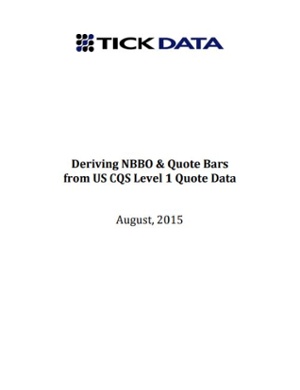 Survivorship Bias in the Development of Equity Trading Systems
This paper will outline the survivorship bias inherent in conducting trading system research on a universe of securities comprised of members of an index, or ranking system, where membership
is based on capitalization of other proxy measures of liquidity.
We will define a sample research universe and attempt to measure a portion of the survivor bias inherent in that universe.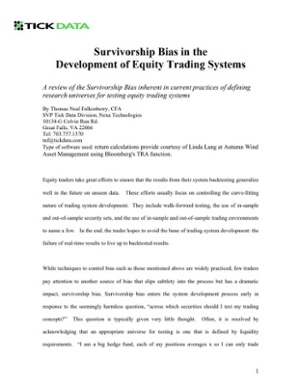 High-Frequency Data Filtering
This paper will describe the issues associated with maintaining and cleaning high frequency financial database. We will attempt to identify the problem, its origins, properties, and solutions. We will also outline the filters developed by Tick Data Inc. to address the problem, although the outline is intentionally general.